This contest is closed.
Winners have been notified.
Kwilty Pleasures
has reached
2 milestones
500 Followers
(GFC+BL+Email)
100 posts
(I'm talkin here)
I began blogging in the Fall of 2011
had no clue what I was doing
or really what "blogging" was all about.
I knew
I loved to write, loved technology
and loved kwilting.
Combine those 3 loves and
Kwilty Pleasures

blog was born.
A Kwilty Pleasure, by my definition,
is anything fabric or fiber in the
kwilting world that puts a smile on your face
and
fills your creative soul with pleasure.
I just luuuuuuvvvvv blogging and I have learned so much!!!
Let me break it down!
What I luv about blogging!!!
I have a "voice" in blogland

I get to write about my passions - kwilting, gardening, etc

I get to read my followers "wonderful" comments!

I get to leave comments on other inspirational blogs

I wake up in the middle of the nite with an idea for a post

I get to take photos for my posts

I am addicted to blog hopping

I get to make projects "for" blog hops

I get to party everyday by joining up with linky parties

I get to WIN giveaways - and GIVE prizes in giveaways

I have new bloggy friends all over the world.

I draw my inspiration from other bloggers

I get to see wonderful projects of other bloggers

I get to follow links a blogger may post and find even more inspiration!

I get to challenge myself bywriting tutorials

I get to read great tutorials and try new techinques

I see no evidence of QUILT-ZILLAS or their crap!
What I have learned about blogging...
I need a good camera for blog photos (but I need more practice)

My head spins 360 degrees as I drive around looking for "outdoor photo opportunities"

I will freeze my arse off (I wish) taking those photos

My husband's bi-ceps are looking good from holding up my kwilts for those photo ops.

I love to try all the new technology for blog designs

I now can use FLICKR for more than just PHOTOS!

FLICKR email strings are overwhelming!

I know how to link my posts to other social media

I spend

way more time

in blogland than ever imagined (good thing I recently retired)

I can multi-task: watch TV, read social media on my iPad, type posts on my laptop and occasionally look up to see if my hubby is still in his recliner!

I had to put a white-board in my sewing room to keep track of what blog post is due when...what I'm making for hops, etc.

I have a wonderful "following"...hell, I didn't even know what a following was when I began blogging !

I have determined that reading your comments is more important than email, FB or Pinterest

NO REPLY BLOGGERS make me sad - can't respond to them

I start my day with coffee, my iPad and reading blogs, FB, Pinterest...sometimes that's as far as I get (period) I'm hooked!

Folks are actually reading my blog and leaving comments.

Comments inspire me. It is so nice to know someone out there has an interest in what I'm saying, doing, showing.

Comments give me hope that my creativity just might make a difference for someone out there.
So, because you
and this post marks
It's time for 2 "Milestone" give-aways!
Giveaway #1


3 coordinating FQs and a 42 piece charm pack of
"Sew Stitchy"by Aneela Hoey for Moda
just look at all this "Stitchy" fun!
Giveaway #2
Two 42 piece Charm Packs of
OZ by
Sanae for Moda
and who wouldn't love this in their stash?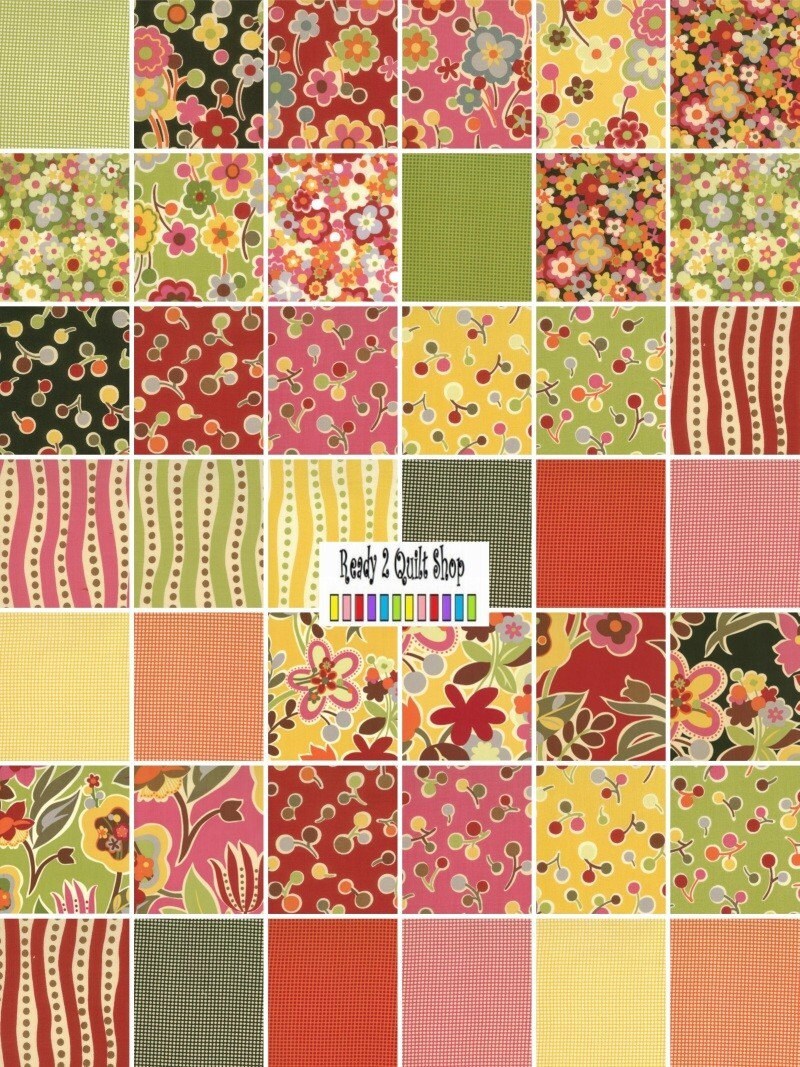 Just leave me a comment to tell me
"why" you follow me!
This is open to all my blogworld friends!
I'm not looking thru 500 names to verify if you follow or not!
It's a celebration party, not a shake down!
It will be my

Kwilty Pleasure

to random draw
two winners on July 1st!
Make sure I have your email in your comment
if there is any chance you are a NO REPLY BLOGGER!
Thanks for all your bloggy love!